Obesity and ailments associated with it's one of the main problems of the developed world. Shelves in shops bend from processed food, we can reach for it whenever we want, and we want it more and more. We are addicted to sweet and savory snacks. Our taste buds, accustomed to flavor enhancers and artificial aromas, often fail to find pleasure in eating natural products. In addition, we are moving less and less. Everywhere you can take a bus or subway, or drive a car. And everywhere there are escalators and elevators and computers and smartphones that encourage a sedentary lifestyle. We are constantly coming up with ways to make life easier and move even less. People weigh more and more, but on the other hand, all around we see the cult of a slim and firm body. So we're looking for ways to get rid of extra kilos. And it should be quick and easy.
These problems occur in every developing country, because it's development that causes them. However, there are countries that break out of this trend and have the lowest rates of obesity. These are South Korea and Japan. The Japanese are perceived by the whole world as a slim nation and this is confirmed by statistics. They have the lowest obesity rate among industrialized countries, around 3.5%. The Japanese are slim, but they want to be even slimmer. They want to weigh even less. Often, the woman's want to weight 40 kilos or even less. I know that this is a nation of generally smaller people, but please… Everyone loses weight, from school-age girls to businessmen. It seems that everyone is on a diet in Japan. New products and diets that guarantee quick weight loss are very popular, and the weight loss industry is huge and worth billions. Why is it so good business in a country where so few people are overweight?
The Japanese people will take different ways to lose weight and costs aren't important. This is a pretty serious and conscientious nation that is very focused on numbers. The ideal weight and size are determined by the numbers. Numbers are the most important. Not health and well-being, but ability to tell friends and family that you weigh less and less. When we try to gradually reduce numbers that define things ​​such as size and weight, and we see the results, it becomes completely addictive. Of course, this mechanism is known everywhere, but in Japan it's the most visible. From magazines and television they get an image of a perfect figure, which is based on celebrities and models. They are convinced that they too should fit in this image, and that for them it is also the best size. What is unique for Japan, is the pattern of beauty. Japanese women don't want to be sexy or seductive. Women of all ages want to look dainty and cute. Girlish outfits and makeup are popular. This trend is also popular in show business. Just compare, for example, music videos of Japanese and Korean music bands. Koreans have sexy costumes and dance. Japanese have cute dresses and hairstyle. Kawaii!
AKB48 – The Japanese Girlsband

Photo-Wikipedia, Autor: Georges Seguin
Girls Generation – The Korean Girlsband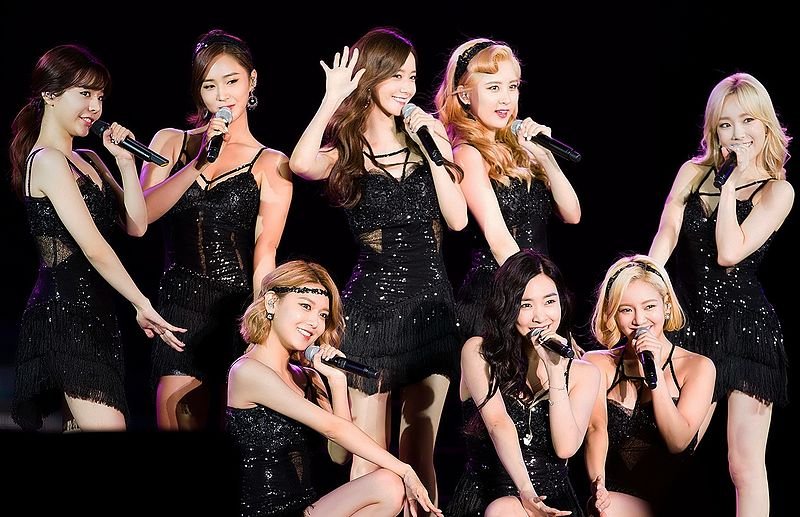 Photo-Wikipedia, Autor: Pabian
A slim look is what the Japanese aspire to, but diets became common in Japan in the late 1960s as the country's eating habits began to change radically. A typical diet has become more western, and fattening dishes have become available to everyone. Obesity has become a visible problem, but the biggest popularity of weight loss has really started with the visit to Japan of Twiggy, the famous model from London. She had her characteristic style, she often wore short dresses, and the Japanese women also wished to wear them. To fit into such outfits, they had to start slimming down. In 1970, a Japanese singer wrote a book about counting calories, which became a hit. In this way, a diet based on controlling calories has become popular. Beginning in the 1980s, women began to use more extreme diets. One example was the apple diet, which consisted of eating only apples for three days in a row (I tried, I do not recommend). This simple and inexpensive diet has gained great popularity. Then came the morning banana diet, where you could only eat breakfast and bananas. Fruit sales increased significantly, shelves in supermarkets were empty. This diet was also very popular in newspapers and magazines, which made it even more popular.
The most popular are diets or products that are easy and promise the fastest results. Those that do not force a change in lifestyle, but small things that fit into everyday duties and habits. Diet programs that promise to lose x kilos within 1 month or 3 kg per week are very popular. Two or three new methods appear each year. These quirks do not last longer than a few years. Typically, certain diet popularity lasts for a year or two years. Weight-loss causes the development of many industries. In recent years, diet books have been a significant part of bestsellers. And if the book sells well, you can also sell the DVD and then create a product line based on certain method. It can be used in gyms and other facilities. This is a huge market, which many businesses can take advantage of.
Despite the fact that in Japan a very small percentage of the population is overweight, it doesn't mean that this problem doesn't concern them at all. However, it mainly affects men. Women of all ages have been under pressure to look their best for years and diets aren't something new to them. Younger men try to lose weight because they want to look good and are interested in fashion. When men enter middle age, they exercise less, eat more and feel more stress, so they gain weight and start to worry. In modern Japan, not only women want to lose weight. In the last decade, men have become more focused on losing weight, which is due to concerns about what is called the metabolic syndrome. Metabolic syndrome is defined as excess fat around internal organs and other symptoms such as high blood pressure and high blood sugar. In Japan, this condition is diagnosed by measuring waist circumference, and those suffering from it have an increased risk of heart disease and strokes. Since 2008, in order to reduce future medical expenses, the Government of Japan has implemented tests of the metabolic syndrome for all health insurance participants aged between 40 and 74. People whose waist circumference is too large have to pay higher health insurance, which further motivates them to lose weight. In recent years, some companies have also started to manage the health of employees in the belief that it will improve work efficiency. The idea that obesity has a negative impact on work means that also Japanese men are looking for effective ways to lose weight.
Different ways are invented to get rid of kilos. One of the last ideas involved shared accommodation, in which the rent was calculated according to the weight of each tenant. Residents paid 1,000 yen for each kilogram, and the weight was checked every three months. It wasn't so easy because in the common zones there were tons of free snacks and drinks. So there was temptation, but on the other hand also a pressure. Because this is the main reason for Japanese constant chase after a slim figure. On society pressure. And it is much larger than in Western countries. In Japan (and in Korea) people do not feel any resistance to tell someone that he has put on weight. They will mention it during each meeting. Your friends, family and even strangers on the street. Everyone will tell you that you have gained weight. They will grab you by the cheeks, pat your stomach, invent your nickname. I think that this is the main factor that makes the Japanese are still on a diet. Nobody wants to be rejected. Unfortunately, when it comes to weight, nobody cares about your feelings.
In addition to healthy or unhealthy diets, there are also several other factors and habits that make it easier for the Japanese to keep a slim figure. There are plenty of healthy snacks on the market, so if you get hungry or don't have time to eat, you can eat some quick snack, after which the butt doesn't grow by three sizes. All products are in small packages. There are no 200 or 300 gram chips. I think it's hard to even find 100 gram packs. Products with big, red inscriptions "30% more" are not very popular at all. Everyone prefers to eat smaller portions, because it has been eating in Japan for centuries. In addition, Japanese prefer green tea much more than sweet drinks or juices. And it always is unsweetened. On the other hand, when it comes to sodas, mini cans are very popular in Japan, which contain a few sips of cola or other specialty. Each food has its own calorie content on its packaging, as well as products in many restaurants, thanks to which it is much easier to control the amounts of consumed calories. But to be honest, it's not much easier to keep a slim figure in Japan. With such a variety of products and dishes?! How?! All this pasta, udon, ramen, deep fried tempura, tonkatsu and kushikatsu. How can you not eat it? Especially when you're going to Japan only for two weeks and you need to try everything? I think that tourists are the most affected by the Japanese food industry and we should have some compensation… which we would spend on even more Japanese food 🙂 Fu*k the overweight, give me some ramen!
Amazing Japan
I invite you to the new project about Japan – Amazing Japan! It's just launched and we want to connect all Japan Lovers and anyone who wants to know more about Japan.
Website: http://AmazingJapan.org/
Telegram Chat: https://t.me/AmazingJapanORG
Facebook: https://www.facebook.com/AmazingJapanORG
Twitter: https://twitter.com/AmazingJapanORG