Ukiyo-e is a traditional Japanese art. Paintings created by using woodblock depicted everything. From portraits of beautiful women and kabuki actors, to famous landscapes and motifs close to the heart of the Japanese. The first Ukiyo-e prints appeared about 350 years ago. Then advances in woodblock printing technology made them more widely available. In Japan, Ukiyo-e was part of popular culture and often had a surprising use. But abroad they began to gain recognition as a fine art. Giving inspiration to Vincent van Gogh and other well-known western artists. With the modernization of Japan, the Ukiyo-e genre went into decline, but recently efforts have been made to revive it.
"Red Fuji" from "36 views of Mount Fuji", Katsushika Hokusai
photo-Wikipedia
Ukiyo-e are now considered as works of art, but in Edo's time, when they were printed, they were simply cheap, mass-produced art, for the whole society. Fans or posters were made with Ukiyo-e motifs. Many of Ukiyo-e's prints included bold compositions and bright colors. Ukiyo-e literally means 'images of the flowing world' because they often depict scenes from ordinary life.
"Tea plantation of Katakura in the Suruga province" from "36 views of Mount Fuji", Katsushika Hokusai
photo-Wikipedia
The pictures below show one of the Ukiyoe types – Bijinga or beauty pictures. They were portraits of beautiful women who were very popular. One of the most popular examples of Bijinga is the work of Hishikawa Moronobu "Beauty looking back". The men wanted to watch Bijinga's characters live, and women were inspired by fashion, hairstyles and make-up. It can be said that the Ukiyo-e's models were trendsetters of those times. Bijinga was also a pin-up photography, a fashion magazine and an advertisement.
"Beauty looking back" Hishikawa Moronobu
photo-Wikipedia
"Flowers of Edo" Kitagawa Utamaro


photo-Wikipedia
Ukiyo-e prints often present well-known personalities, for example kabuki actors. The portrait of the popular actor Otani Oniji by Toshusai Sharaku is very dynamic due to the stiff upper body and the exaggerated facial expression. Such portraits were like advertising shots of those times, which were sold in large quantities.

photo-Wikipedia
In the seventeenth century, many Japanese began to travel. The trend was reflected in Fukaya Ukiyo-e which showed the landscapes of popular places. They allowed not only to appreciate the picturesque views, but also provided useful tourist information. The landscape of Shinagawa by Utagawa Hiroshige from his series Ukiyo-e "53 stations Tokaido" presents a courier and a palanquin. There are signatures on it indicating the location of inns, as well as information about the local delicacy, which were seaweed. Other useful information includes, e.g., the distance to the next post station. The Japanese could use this woodblock print as a tourist guide.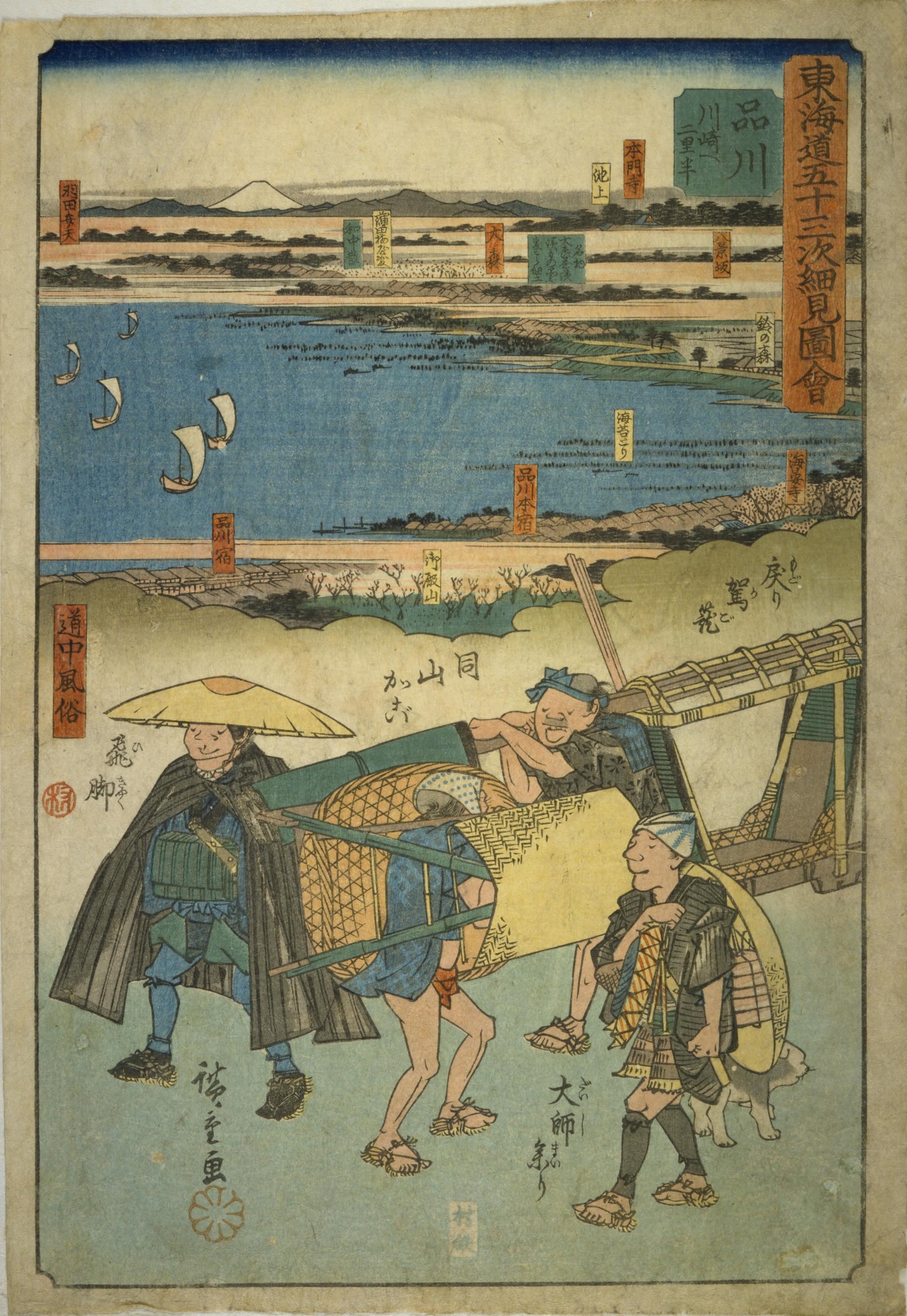 photo-Wikipedia
The first Ukiyo-e were monochrome, only India ink was used. At the end of the 17th century, the prints were painted by hand to make them more attractive. It required a lot of work to manually paint prints one by one, which made them expensive. This made Ukiyo-e more difficult to spread. The turning point was the eighteenth century. At that time, an artist named Suzuki Harunobu perfected the polychrome printing method, which produced vivid colored prints. This enabled mass production in color, which meant that basically everyone could now afford Ukiyo-e prints.
"Sumida River" from "36 views of Mount Fuji", Katsushika Hokusai
photo-Wikipedia
From the late eighteenth to the mid-nineteenth century, well-known artists such as Katsushika Hokusai and Utagawa Hiroshige created timeless Ukiyo-e masterpieces . At the end of the 19th century, Japan opened to the West and entered a modern era. The new fashion for Western culture made this art decline. At the same time Ukiyo-e appeared at the Exhibition in Paris. Polychrome printing delighted Europeans, and Japanese woodblock prints influenced the painters creating in Europe. The Dutch painter Vincent van Gogh was probably the most captivated. He even created copies of two Hiroshike's Ukiyo-e, which come from the series "100 famous views of Edo". By reproducing these works, van Gogh could create a new, groundbreaking painting style. Famous western artists, van Gogh or Claude Monet, was fascinated by Ukiyo-e presenting a natural elements such as rain, wind, snow and mist. Elements that they did not think could be the subject of images. This Ukiyo-e surprised and inspired European painters. An example of such an inspiring work is the "Sudden Rain Attack at Atake", in which Hiroshige created thin and dense streaks of rain. They differ slightly between each other and create the perspective of the image.
Po lewej "Evening Shower at Atake" autorstwa Hiroshige, po prawej inspiracja Van Gogha
photo-Wikipedia
How was Ukiyo-e created? First, the artist sketched his picture with black ink. The drawing was stuck to a block of cherry wood, and then lines were carefully carved, which were often so accurate that they did not exceed 1/10 millimeters. Cherry wood has a very compact structure, thanks to which it was possible to cut out such extremely thin lines in it. Different colors were attributed to different parts of the wood, each of which represented a different part of the picture. A single work might require as many as six or seven wood blocks to be carved on both sides.This method enabled efficient application of many different colors. Completing a set of blocks could take one month. Then the printer applied colors. He applied pigment on wood, then placed a sheet of traditional Japanese paper and rubbed it down. The print was produced color by color, as the printer proceeded from block to block, more and more color appeared. Producing an Ukiyo-e woodblock print required teamwork of artist, carver and printer.
"Printmaking tryptich" Utagawa Kunisada
One printing technique used was Bokashi – color gradation. These was achieve by soaking part of the woodblock before adding the pigment and then spreading it gently with a brush. This pigment was transferred to the paper where it created an effect of softly graduated color.
"Travellers suprised by sudden rain" Utagawa Hiroshige
photo-Wikipedia
Erotic art was also created by Ukiyo-e. Masters like Moronobu or Utamaro specialized in erotic portraits and scenes of Kamasutra. They presented courtesans and districts of pleasure. Nudity has never been taboo in Japan, it was quite the opposite. When we are all naked then we are equal. We do not see what is our profession and social position.

photo-Wikipedia
Currently, the Ukiyo-e art  is continued only by individual artists. On the other hand, images made famous by Ukiyo-e are still popular. They are represented by murals on buildings, prints on clothes, postcards and other souvenirs. As a result, works by artists such as Hokusai are still known to modern people and even are part of Japanese pop culture.

photo-Wikipedia
Amazing Japan
I invite you to the new project about Japan – Amazing Japan! It's just launched and we want to connect all Japan Lovers and anyone who wants to know more about Japan.
Website: http://AmazingJapan.org/
Telegram Chat: https://t.me/AmazingJapanORG
Facebook: https://www.facebook.com/AmazingJapanORG
Twitter: https://twitter.com/AmazingJapanORG